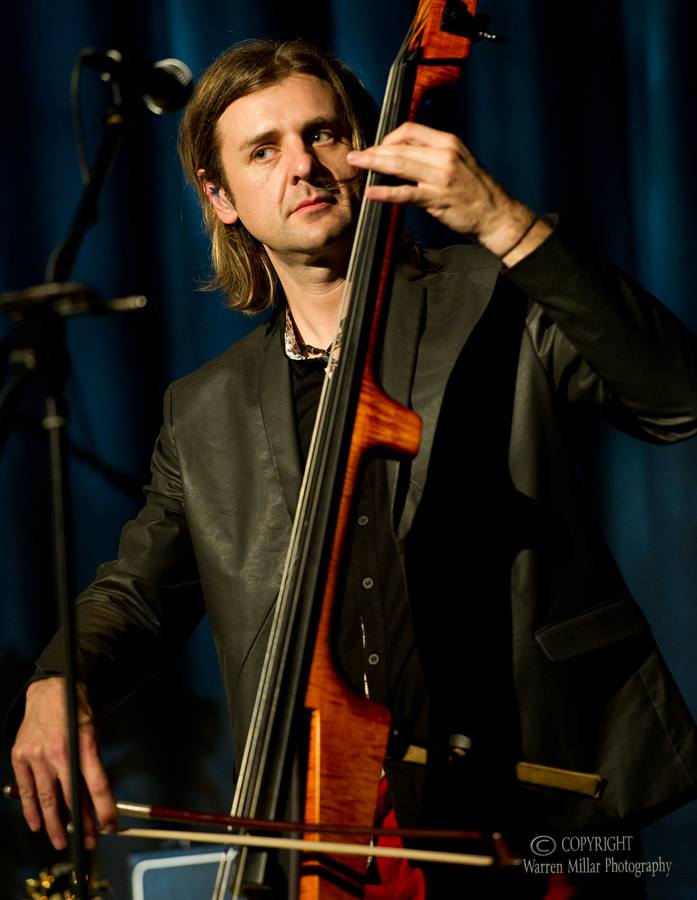 Vektor Upright Bass – (pictured left) Electric Upright Bass (EUB) that I have been using for over 15 years. Hand made by Sven Henrik Gawron in Viersen Germany
Fender Bass – I own and use a selection of Fender Precision and Jazz basses including a 1973 Precision and my favorite 1986 customised Fender Japan Jazz bass
GB Guitars – By Bernie Goodfellow – I recently Commissioned Bernie to build me a single-cut five string bass. This model, called the "Merlin" plays and sounds as good as it looks! (pictured below)
Other Basses – 1976 Gibson Grabber, Gibson EB2, Musicman Stingray Fretless, Yamaha BB3000, Moon Larry Graham, Lakland Jerry Scheff, 1890 German Upright Bass.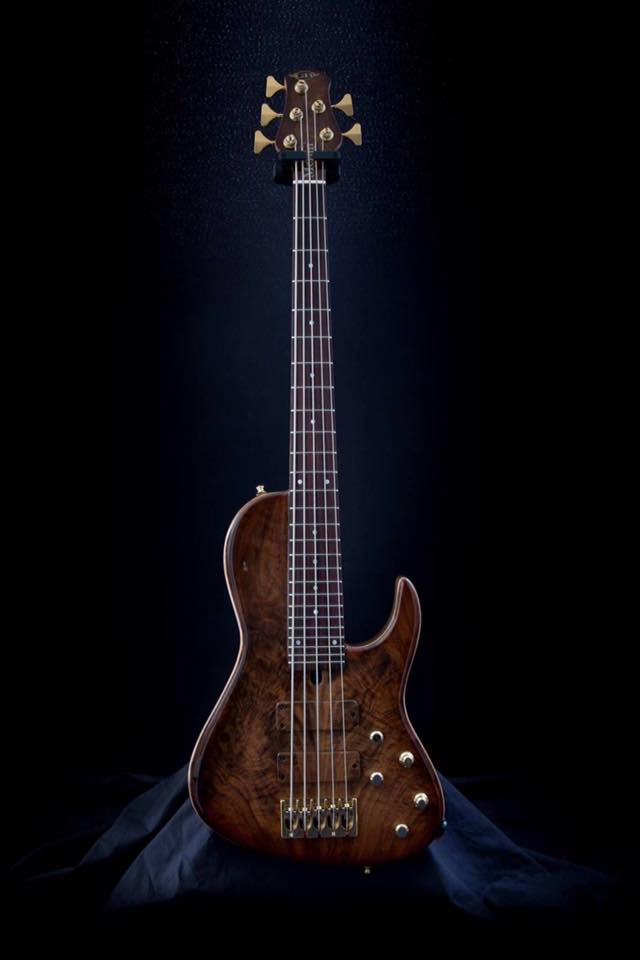 Amps – Genz Benz Streamliner 900 Amp, Ampeg V4BH all tube head, SWR Baby Blue Head.
Cabs – Vanderkley – 2 x112EXT, Barefaced Vintage 2×15 to use with the Ampeg head.
Effects – So many! Essentials include Boss OC-2, FT-2, CS-2, CEB-3, DD-3. MXR Bass Compressor, EMMA Discumbubulator, Paul Cochrane "Timmy" Overdrive, Wren & Cuff "Pickle Pie Hella Fuzz", Diamond Bass Compressor, SansAmp Bass Driver DI, Electro-Harmonix Micro Bass Synthesizer, Melekko BASS-MASTER, Maestro Fuzz Phazzer.
Other bits of gear – Moog Little Phatty, Reynolds Sousaphone, Yamaha Pacifica Mike Stern Tele, Seagull Acoustic Guitar, Fender Japan Stratocaster, Gibson M,H Bass picks and Straps- Italia Leather Straps